7 Science-Backed Health Benefits Of Almonds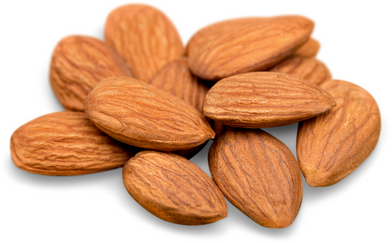 Whether you enjoy them raw, roasted, salted, made into a milk, or blended into a butter, almonds have become one of the most popular tree nuts out there. These little guys are the edible seeds of a tree called Prunus dulcis, better known as the almond tree.
Most almonds today have the shell removed, revealing the nutritious nut within. And their popularity is nothing but a good thing thanks to their immense health benefits! 
Today, we go over seven of these health benefits and the science to back them up.
1. They're Loaded With Nutrients
Almonds possess an impressive nutrient profile. Just a 1-ounce (about a handful) serving of almonds contains:
3.5 grams of fiber

6 grams of protein

14 grams of fat (9 of which are monounsaturated)

37% of the RDI of vitamin E

32% of the RDI of manganese

20% of the RDI of magnesium
On top of that, they contain a decent amount of copper, vitamin B12, and phosphorus. [1]
And you get all of this with only 129 calories! [2]
2. Almonds Have Tons Of Antioxidants
On top of being full of all the good stuff above, almonds are filled with antioxidants!
Antioxidants help protect against oxidative stress, which can damage molecules in your cells and contribute to inflammation, aging, and a host of health issues. [3,4]
The powerful antioxidants in almonds are predominately in the brown layer of skin, meaning that blanched almonds – which have the skin removed – are lacking in this regard.  
These compounds are a major reason why eating almonds every day can have such a positive impact on human health. For example, a clinical trial in 60 male smokers found that about 3-ounces of almonds per day reduced oxidative stress biomarkers by 23-34% over just a four-week period! [5]
And that's not the only study of its kind. Another one found similar results when subjects simply added almonds with their main meals. [6]
3. Almonds Are High In Vitamin E
Speaking of antioxidants, almonds contain a high amount of a powerful one called vitamin E.
Vitamin E works effectively at protecting your cells from oxidative damage by building up in cell membranes. 
Numerous studies have linked higher vitamin E intake with lower rates of health conditions – ranging from heart problems to cognitive decline. [7,8,9,10,11,12]
And, luckily for us, almonds are among the world's best sources of vitamin E, with just 1-ounce providing nearly 40% of the RDI (Recommended Daily Intake)!
4. They Can Help Manage Blood Sugar
Almonds are a great choice for those looking for ways to control their blood sugar. This is due to two main reasons:
– Almonds are low in carbs but high in healthy fats, protein, and fiber, meaning they won't spike blood sugar levels.

– They're very high in magnesium, which is involved in over 300 bodily processes, including blood sugar control.
As it turns out, 25-38% of people struggling with blood sugar levels are deficient in magnesium. Fixing this deficiency may significantly lower blood sugar levels and improve insulin function. [13,14,15]
To further add to that point, people without blood sugar issues also see considerable drops in insulin resistance when supplementing with magnesium. [16, 17]
Since almonds are so high in magnesium, just a few handfuls a day could be enough to make a drastic change in magnesium levels.
5. Almonds Can Also Help Blood Pressure
This benefit is also thanks to the high magnesium content in almonds. It's another example of how not providing our body with the nutrition it needs can be detrimental. 
High blood pressure is a precursor to cardiovascular issues and events like kidney failure. And a deficiency in magnesium is strongly linked to high blood pressure, regardless of weight. [18, 19, 20]
Studies show that blood pressure can be greatly reduced when a magnesium deficiency is corrected. [21, 22] 
6. Almonds Can Reduce "Bad" Cholesterol
A well-known and established risk for cardiovascular health is having too much LDL cholesterol – also known as "bad" cholesterol – in the blood. 
Diet has a major impact on cholesterol levels, and that includes almonds!
One study that looked at 65 people over a 16-week period found that a diet providing 20% of its calories from almonds lowered LDL cholesterol levels by an average of 12.4 mg/dL, a clinically significant improvement. [23] 
7. They May Help With Weight Loss
If you're looking to lose weight, adding almonds to your diet could be a great idea!
For starters, snacking on almonds can help you feel full sooner, and for longer. This can help you eat fewer calories.
A range of studies have been done on nuts staving off hunger, including one study which found that eating 1.5-ounces of almonds per day significantly lowered hunger and the desire to eat. [24, 25]  
Nuts, including almonds, also contain some nutrients that the body can't fully digest, meaning the body doesn't absorb about 10-15% of the calories in nuts. Almonds may also be able to boost metabolism. 
Due to these factors, almonds make a great addition to a weight-loss diet.
One study which added 3-ounces of almonds to a low-calorie diet showed increased weight loss by 62% compared to a diet containing complex carbohydrates. [26]
Another study involving 100 overweight women found that those who consumed almonds lost more weight than those who did not eat almonds. They also showed a drop in weight circumference and other health markers. [27]
Do You Eat Almonds?
How often do you eat almonds? Has this blog encouraged you to add them to your grocery list? We won't tell if you get the ones that are covered in chocolate!
If you're looking for another way to get many of the same benefits almonds have to offer, Purality Health has what you need.
Our Micelle Liposomal Vitamin C includes THREE of the most powerful antioxidants out there – vitamin C, vitamin E, and beta-carotene.
Want to know how this supercharged formula – which is designed to be absorbed and used by your body – can benefit you?
References And Resources: