Gardening For Your Health This Spring
The days are getting longer and the weather is getting warmer – it's finally springtime! 
Now is a great time to start preparing your garden for the season. In this blog post, we will discuss some tips for gardening in spring. We'll talk about how to get your soil ready, what plants to plant, and how to care for your garden. 
So read on for some helpful advice on getting your garden ready for spring!
But first, let's quickly look at why you may want to garden for your health… 
Gardening for your health
Research has shown that gardening and simply being around gardens is beneficial for both physical and mental health. [1]
This is because there are many health benefits to having a garden. First and foremost, gardening is a great way to get exercise. It can be a lot of work to care for a garden, so you will be sure to get a good workout! 
Gardening is also a great way to reduce stress. The act of planting and caring for plants can be very therapeutic. 
In addition, gardening is a great way to get fresh air and enjoy the outdoors, which is always a bonus for your well-being.
Though gardening can be a lot of work, it's very rewarding. Seeing your plants grow and bloom is a great feeling. 
And of course – depending on what you choose to grow – you will also get to enjoy the fruits (or vegetables) of your labor! Freshly picked produce is not only delicious, but it's also much healthier for you than store-bought produce. So if you're looking for a way to eat healthier and save money, consider growing your own food!
1. Planting tips
Spring is a time of new beginnings, and that includes your garden. If you're looking to give your green space a fresh start this season, here are some helpful planting tips.
First, choose plants that are well-suited to your climate. Many nurseries and garden centers offer regional plant guides that can help you make the best choices for your area.
Second, take the time to prepare your soil. Add some compost or other organic matter to help improve drainage and aeration. We will get into this more in a moment.
Third, be sure to water regularly, especially during periods of hot, dry weather. Deep watering once or twice a week is better than light sprinklings every day.
Finally, don't forget to fertilize your plants on a regular basis. A good rule of thumb is to fertilize when you plant, and then once every month or so thereafter.
2. Soil preparation
Getting your soil ready for gardening season is an important step to ensuring healthy and happy plants. Luckily, there are a few simple steps you can take to get your soil in tip-top shape.
Before you start on the items below, be sure to remove any debris – such as rocks or sticks – that could interfere with plant growth. Then, loosen the soil with a hoe or tiller to allow roots to penetrate easily. Once that's done, get started on making sure your soil has the right ingredients.
Checking pH levels
Conduct a soil test to check the pH level. Checking the pH level of your garden's soil is an important part of maintaining a healthy garden. The pH level is a measure of how acidic or alkaline the soil is. Most plants prefer a slightly acidic soil, with a pH level between 6 and 7. If the pH level is too high or too low, it can make it difficult for plants to absorb nutrients from the soil. 
Checking the pH level of your soil is relatively simple and only requires a few inexpensive supplies. You will need a garden trowel, a pH test kit, and some distilled water. 
First, use the trowel to take a small sample of soil from several different areas of your garden. Then, follow the instructions that come with the pH test kit to test the soil samples. Once you know the pH level of your soil, you can make adjustments accordingly.
If your soil is too alkaline, you can lower your soil's pH or make it more acidic by using several products. These include sphagnum peat, elemental sulfur, aluminum sulfate, iron sulfate, acidifying nitrogen, and organic mulches.
For soil that is too acidic, add pulverized limestone. Limestone acts as a soil acid neutralizer and consists of either calcium and magnesium carbonate or calcium carbonate.
Adding nutrients
Another important aspect of preparing your soil is to add nutrients. One way to do this is by composting. Composting is a process of breaking down organic matter, such as leaves and food scraps, into a nutrient-rich soil amendment. This amendment can then be used to improve the fertility of your garden soil. If you don't have the time or space to compost, you can also purchase bags of compost from your local garden center.
Other soil amendments
You can also incorporate some other amendments, such as lime or gypsum. These two products can be used to improve the quality of garden soil. 
As mentioned above, limestone is made from calcium carbonate, and it can help to raise the pH level of soil that is too acidic. This makes it more hospitable for plants that prefer neutral or alkaline conditions. 
Gypsum, on the other hand, is made from calcium sulfate. It can help to improve the structure of compacted soil, making it more porous and better able to retain moisture. It can also help to reduce the levels of sodium in salt-affected soil. 
Both lime and gypsum are relatively inexpensive and easy to find, making them popular choices for gardeners looking to improve their soil quality.
Once you've added all the necessary ingredients, be sure to give the soil a good stir before planting. With just a little bit of prep work, you'll be on your way to a gorgeous garden in no time!
3. What to plant in spring
Spring is the perfect time to plant a garden. The weather is warm but not too hot, and the rainfall helps to nurture new growth. Plus, once planted, you have some beautiful greenery for the entire summer season!
If you're wondering what plants to put in your spring garden, here are a few suggestions…
Primroses
Primroses are one of the first flowers to bloom in spring, and they come in a variety of colors. Their cheerful appearance is certainly a welcome sight after a long winter. 
These versatile plants come in a wide range of colors, from delicate pink to vibrant yellow, and they are relatively easy to care for. 
Primroses also make excellent cut flowers, and their fragrant blooms can brighten up any room. 
In addition, primroses are known to attract bees and other pollinators, which can help to increase the yields of fruits and vegetables. Whether you're looking for a splash of color or a fragrant addition to your garden, primroses are an excellent choice.
Daffodils
Daffodils are another popular choice, and they provide a cheerful burst of yellow color. They are not only one of the first flowers to bloom in the spring, but they are also incredibly easy to grow. In fact, they will often naturalize and multiply on their own, making them a low-maintenance addition to any garden. 
In addition to their vibrant colors and cheerful blooms, daffodils are also known for their distinct fragrance. While some people find the scent overpowering, others find it to be a welcome reminder of warmer days ahead. 
No matter what your opinion of their scent may be, there is no denying that daffodils add a touch of beauty and cheerfulness to any garden. So if you are looking for an easy way to brighten up your yard, consider planting some daffodils.
Pansies
Pansies are another great choice for spring gardens. These cheerful flowers come in a wide range of colors, and they are relatively easy to care for. 
Pansies are known to bloom even in cooler weather, making them a good choice for early spring plantings. If you are looking for a colorful addition to your spring garden, you can't go wrong with pansies.
Impatiens
When it comes to finding the perfect plant for your garden, impatiens are a great option.
Also known as touch-me-nots, impatiens are named for their tendency to burst open when they are touched. This trait is actually beneficial, as it helps to disperse the plant's seeds. 
Impatiens are also known for their bright and cheerful flowers, which come in a variety of colors including pink, red, white, and purple. 
In addition, impatiens are relatively low-maintenance and can thrive in shady areas. For a beautiful and easy-to-care-for plant, impatiens are a great choice.
Hyacinths
For something different, try planting hyacinths. Their fragrance is sure to delight your senses. Hyacinths are a stunning spring-flowering bulb that will add color and life to your garden.
There are many reasons why you should include hyacinths in your garden design. Firstly, they are relatively easy to grow and require very little maintenance. Secondly, they have a long flowering season, often blooming for several weeks. Thirdly, they are available in a wide range of colors, from delicate pink to rich purple. And fourthly, they make excellent cut flowers!
If you want a plant that will brighten up your garden and provide you with beautiful blooms, then look no further than the humble hyacinth!
As you can see, there are many beautiful and easy-to-care-for plants that thrive in spring gardens. With just a little bit of planning, you can have a gorgeous garden that will provide you with color and beauty all season long. So get out there and start planting!
4. Caring for your garden this season
Now that you have your garden all planned out, it's time to start thinking about how you will care for it this season. Here are a few tips to help you get started:
Water your plants regularly. Depending on the type of plants you have, they may need to be watered every day or just a couple of times a week. Check the soil before watering to make sure it is not too wet or too dry.
Fertilize your plants as needed. Talk to your local nursery or garden center to find out what type of fertilizer is best for the plants in your garden.
Deadhead spent flowers. This means removing the dead or dying flowers from your plants. This helps them to focus their energy on producing new growth and blooms.
Pest control. Keep an eye out for pests such as aphids, slugs, and caterpillars. If you see any, take action immediately to remove them from your garden. You can do this by hand picking them off of your plants or using a natural pest control method such as diatomaceous earth.
Weeding. Be sure to pull any weeds that appear in your garden. Weeds compete with your plants for nutrients and water, so it's important to keep them under control.
By following these simple tips, you can ensure that your garden will be healthy and beautiful all season long. Happy gardening!
A healthy garden and healthy you
When you're outside in the garden, you have to be mindful of the sun. Sure, some sunlight is great, but too much exposure can be harmful to your skin. 
To protect yourself, wear sunscreen, take breaks in the shade, and wear a hat to keep the sun out of your face. 
Another important precaution you should keep in mind is hydration. Being outside where it's only getting warmer, your hydration levels can drop faster. 
Purality Health's Micelle Liposomal Active B Complex can help with that.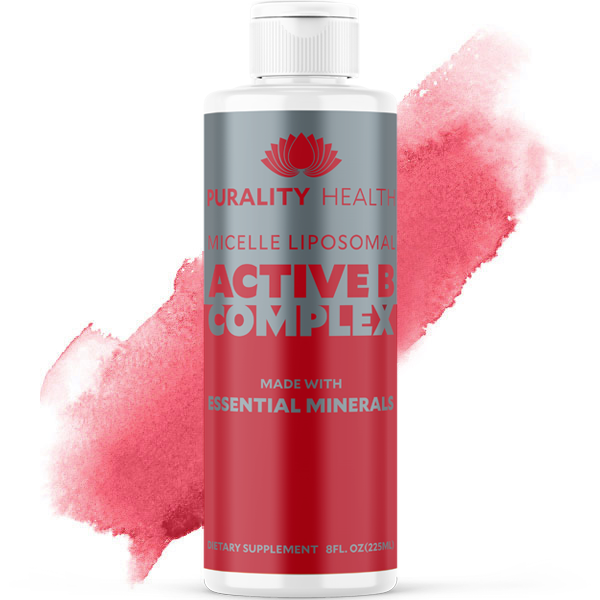 Our formula contains NINE crucial minerals to support your health – FOUR of which are electrolytes. 
These minerals regulate hydration, ensuring that when you drink water, the cells of your systems are actually taking it in and using it.
Not only that, but our Active B Complex has all EIGHT B vitamins which help with metabolism of nutrients, along with supporting energy levels.
And it's all infused with our highly absorbable micelle liposomal formula.
This way, you can maintain the energy you need to garden or take on anything else you want this season!