Meet Purality Healths Products
Here at Purality Health, we have a lot of products, with more soon to come! 
You may know about a few of our products, but do you know about all of them? If not, this blog is for you! Below we list each of our highly quality products and why they stand out from all the others on the market!
But before we begin, let's take a look at what all of our products have in common:
All of our products are…
We carry a line-up of eight amazing products. And each of them are carefully designed to serve your health best.
That's why all of them are…
Formulated with a patented micelle liposomal technology

– that way, the nutrients can be absorbed and used by your body so that you can actually feel the difference…

Designed to serve your health in the best way possible

– we do the research to make sure you're getting the most out of every dose…

Made with high-quality ingredients

– our products contain no fillers or preservatives, only things that support your health…

Free of many common allergens

– we don't include GMOs, soy, corn, yeast, gluten, or wheat…

Made in the USA

– using domestic and imported ingredients, all of our products are manufactured in California, USA…

Tested for quality assurance

– every batch goes through rigorous third-party testing to check for heavy metals or other harmful compounds…

Backed by our 180-day money-back guarantee

– if you find that any of our products aren't right for you within 6-months, you can return your order for a FULL refund, no questions asked. 
Our number one goal is to provide YOU with all-natural supplements that actually work. Along with that, we offer the best customer support in the industry.
Our amazing customer service representatives are available between 9 a.m. – 5 p.m. EST Monday – Friday by calling 1-888-292-8309, emailing info@puralityhealth.com, or chatting to us live by simply clicking the chat bubble at the bottom right of your screen!
Now that you know just how much goes into our products, let's take a look at each of them!
Vitamin C
Nearly 60,000 studies have been published on how vitamin C impacts almost every system in your body. You may be familiar with some of the effects, such as how it can support your body's immune response. But that's just the tip of the iceberg…
Vitamin C is responsible for helping your body produce collagen (which supports healthy aging and improves the appearance of your skin, hair, and nails), improving your body's stress response, and reducing free radical damage all throughout your body.
Despite the fact that vitamin C is well known as a powerful antioxidant, many people still face deficiencies. It's estimated that 25-33% of people are at least marginally deficient, and up to 20% of the population is severely deficient. This is often attributed to dietary habits and nutrient depletion in soils and therefore food. 
Knowing how important this vitamin is for overall health, we created a top-quality solution. Purality Health® Micelle Liposomal Radiant C has an excellent absorption rate – our delivery method encapsulates the active ingredient into tiny, nano-sized micelles which are then further enveloped into liposomes. This system protects the active ingredient from the hostile environment in the human digestive systems and optimizes it for absorption.
>>> Click here to see ingredients, reviews, and more!
Vitamin D3 with K2
Experts believe that around 90% of the American population could be at risk for or suffering from vitamin D deficiency. This is bad news because this nutrient is so vital that every cell in your body has a vitamin D receptor. 
Symptoms of vitamin D deficiency include fatigue, weakness, cramps, dry skin, mood imbalances, irritability, and aching bones/joints. If you're experiencing any of these, you should consider being tested for a deficiency, and perhaps supplementing vitamin D. 
When supplementing, it's important to combine vitamin D with vitamin K to ensure maximum efficiency of this critical nutrient. That's why Purality Health® Micelle Liposomal D3 with K2 is an ideal choice.
Plus, our unique delivery technology helps get these vitamins directly into your bloodstream. That way, the D3 can go right to work and help you live your best life.
>>> Click here to see ingredients, reviews, and more!
Curcumin Gold
Purality Health® Micelle Liposomal Curcumin Gold contains a unique blend of powerful compounds that support a healthy inflammatory response. With concentrated curcumin, DHA, and ginger oil all infused with our micelle liposomal delivery method, you get a highly absorbable supplement that supports healthy joint function, muscle health, and all-around wellness.
Purality Health® Micelle Liposomal Curcumin Gold gives you unparalleled bioavailability. Our unique delivery method protects the delicate compounds from breakdown in the digestive system, improving absorption and delivering a powerful, soothing dose right where you need it!
>>> Click here to see ingredients, reviews, and more!
Turmeric
Turmeric root has a long history of use medicinally, culinarily, and ritually. It has acted as a health remedy for more than 4,000 years and – with over 3,000 publications concerning turmeric released in the last 25 years – it's one of the most studied substances in modern dietary research.
Purality Health® Micelle Liposomal Turmeric acts as a powerful antioxidant that can support your body's natural inflammatory response, promote heart health, and ease discomfort in the joints and muscles. Using our unique delivery technology, our blend of full-spectrum organic turmeric is quickly and easily absorbed.
>>> Click here to see ingredients, reviews, and more!
Glutathione
Glutathione has been dubbed the "Master Antioxidant" for good reason.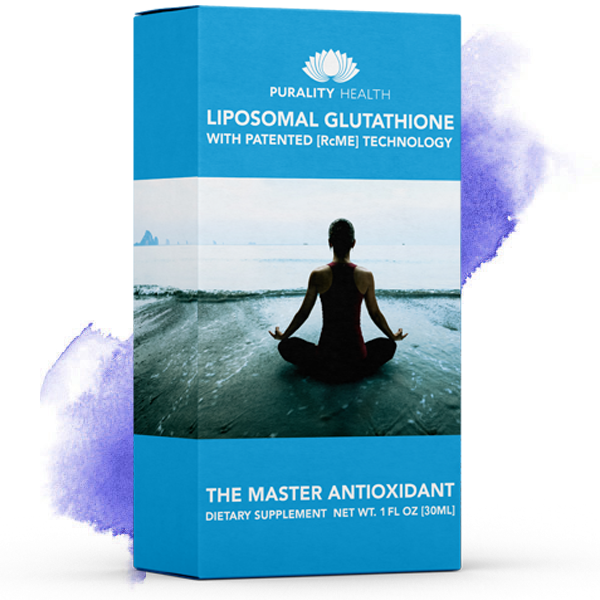 One of the most potent and important antioxidants in the body, glutathione is produced in the cells and largely made up of three amino acids: glutamine, glycine, and cysteine.
You can't get glutathione from food, so you need to rely on your body to make it. But unfortunately, glutathione levels are reduced by a number of factors, including poor nutrition, environmental toxins, and stress. Worst of all, it naturally decreases with age.
Because it's a powerful antioxidant, it plays a large role in neutralizing free radicals throughout the body, helping to reduce oxidative stress, a precursor to many health issues. This is why maintaining healthy glutathione levels is said to promote overall health, well-being, and healthy aging.
Our unique delivery system ensures that this potent antioxidant can get to where it's needed most so that you can be at your healthiest!
>>> Click here to see ingredients, reviews, and more!
Vitamin B12
Studies show that up to 40% of Americans could be deficient in Vitamin B12. This could be why many people report forgetfulness and fatigue on a daily basis. This essential nutrient maintains normal energy levels, red blood cell production, heart health, and hundreds of enzymatic reactions in the body.
Purality Health® Micelle Liposomal Vitamin B12 uses only methylcobalamin – the most natural, easily absorbed version of B12. This is combined with organic glycerin extract and fulvic acid to give you the most easily absorbable B12 supplement on the market today.
Our micelle liposomal delivery method gives you unparalleled bioavailability by protecting the delicate compounds from breakdown in your digestive system, improving absorption, and delivering a potent dose of vitamin B12.
>>> Click here to see ingredients, reviews, and more!
Active B Complex
Purality Health® Micelle Liposomal Active B Complex is a combination of essential B vitamins, minerals, and electrolytes formulated to not just enhance your workout performance, but to improve your day to day.
These EIGHT B vitamins improve your energy, immune function, cognition, and skin health. The NINE minerals – four of which are electrolytes – regulate hydration, support the health of the brain, bones, heart, and muscles, while also playing a crucial role in the development of enzymes and hormones. 
Altogether, that's SEVENTEEN important nutrients all in a highly absorbable form.
When you're missing out on our Active B Complex, you're missing out on a lot. 
Whether you lead an active lifestyle or simply need more energy and focus to get through your day at the office, this blend can put a little extra pep in your step.
Plus, as always, this formula uses our micelle liposomal delivery method, so that you can be sure your body is able to take full advantage of these many nutrients.
>>> Click here to see ingredients, reviews, and more!
Rhamnosus Probiotic
Purality Health® Probiotic formula is specially formulated with L. Rhamnosus, the most extensively studied and well-understood strain of probiotic available. It has been shown to be one of the most effective strains, supporting mental health, boosting immunity, allowing for healthy growth and development, benefiting gut health, and more!
A healthy person should have at least 85% good bacteria in their gut. The problem is that the Western diet, nutrient depletion, lack of activity, medications, and more can all cause this balance to go in the other direction, resulting in major issues.
A healthy gut biome supports optimal immune function, healthy cognitive function, and proper mood regulation.
Purality Health® utilizes RcME technology to ensure that you get maximum absorption of your probiotics. This way, you know the probiotics are going to work in your body, and you can count on seeing results!
>>> Click here to see ingredients, reviews, and more!
More to come?
As time goes on, we only look for new ways to support your health. Again, we want to provide you with high-quality supplements that your body can actually use and absorb. That way, you actually get the health benefits and can notice the difference.
So, keep a lookout for new products in the future that can serve you. Until then, we hope you continue to enjoy the above products and the amazing health benefits they provide!