Grow healthy hair with this blend of powerhouse nutrients, specifically designed to improve hair growth and quality.
And the best part… It tastes like a delicious, gooey, fresh-out-of the oven, cinnamon roll!


Enjoy restorative benefits such as Healthy Hair Follicles, Scalp Nourishment, Hair Growth, Stronger Hair, Shinier Hair & Reduced Split Ends.
Here's why people rave about Complete Biotin Plus
SATISFIES YOUR SWEET TOOTH

DRINK RIGHT FROM THE POUCH

Not only does Complete Biotin Plus taste amazing, but it's:

…And contains NO artificial flavorings or preservatives.
Here's Why Complete Biotin Plus is Superior.
If you've ever bought biotin from a health food store or most places online… Chances are you have a useless supplement sitting in your medicine cabinet.
See, most biotin supplements have two issues:
They are "naked" — meaning they're unprotected from the boiling acid of your stomach… Which destroys most of the nutrients before they can be absorbed.
They are made of giant nutrients — meaning they are encapsulated in such a form that is too big to squeeze past your small intestine wall, hindering absorption.
Complete Biotin Plus is completely different
It's "packaged" with much smaller nutrients, so your body soaks in up to 800% more!
FIRST: The biotin is encased in micelles. Think of micelles as a protective barrier that wraps around the nutrients to protect them from stomach acid during digestion.
SECOND: The micellized biotin is further wrapped in liposomes. Liposomes form the same type of fat (phospholipids) as cell membranes. This makes the nutrients recognizable by the body and welcome for absorption.
THIRD: The biotin compounds (within the micelles and liposomes) safely travel through the harsh digestive tract and arrive in your gut fully intact. The nutrients are then absorbed through the intestinal wall and are deposited directly into the bloodstream.
FINALLY: Your body gets a powerful dose of biotin along with the countless health benefits that come with it, like radiant skin, shiny hair, strong nails, boosted energy, and much more!
How to Take EverBella Complete Biotin Plus
Step 2: Squeeze the formula into your mouth
NOTE: You can also take your EverBella Micelle Liposomal Complete Biotin Plus off a spoon, drizzle it onto your yogurt, add it to a smoothie, coffee, or any recipe you think would be a good fit for the delicious cinnamon roll flavor!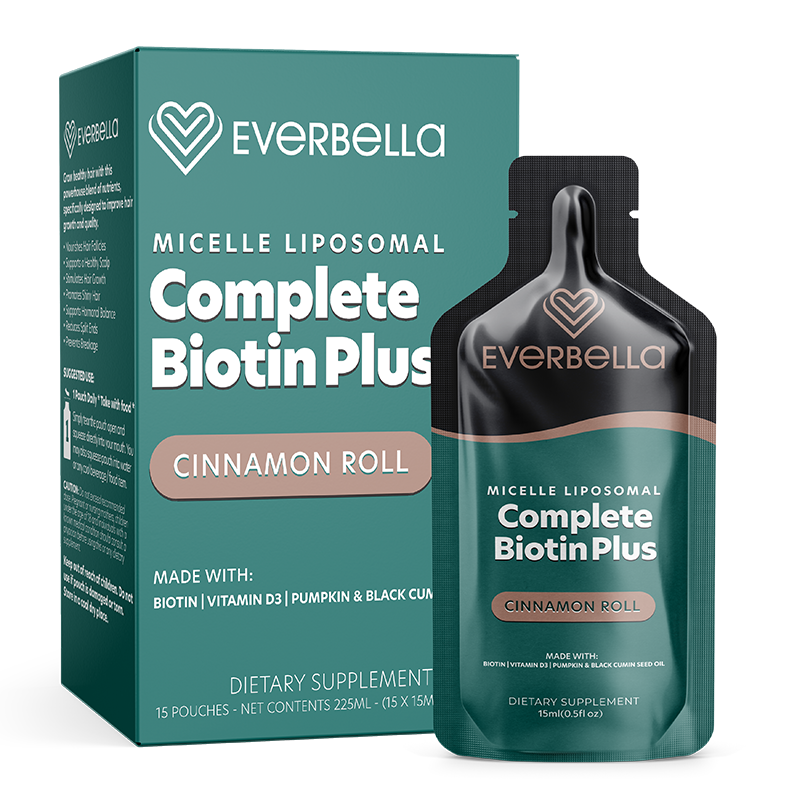 Micellized Biotin
One of the B vitamins (B7), biotin is an essential nutrient. This means your body needs it but doesn't make it or store it, so it's up to you to ensure you're getting enough. Research shows that it can regulate metabolism, protect the heart, boost brain health, support immunity, and, due to its crucial role in the production of keratin, it's a critical component to looking your best and aging gracefully.
Vitamin D3
Vitamin D3 addresses hormonal balance while also supporting the hair growth cycle and follicle health. When vitamin D3 levels get too low from things like postpartum, menopause, or nutritional deficiency… your hair follicles get "stuck" at the phase where your hair is supposed to grow back and replace the hairs you naturally shed on a daily basis. Meaning, your hair becomes thin and you start seeing bald spots.
Pumpkin Seed Oil
The oil from pumpkin seeds (or pepitas) keeps hair shiny and strong while also promoting hair growth.
Cumin Seed Oil
From the ancient nigella sativa seeds, this oil reduces shedding and prevents breakage.
Selenium
Selenium is a well-known antifungal that promotes a healthy dander-free scalp. Researchers have found that new hairs pull selenium from the blood to boost growth.
Buy EverBella Complete Biotin Plus from Thive Essentials

Dosing Instructions:
Each individual pouch contains ONE serving.
Dispense one pouch into your mouth, a glass, or a spoon.
Best taken after a meal.
CAUTION: Do not exceed the recommended dose. Pregnant or nursing mothers, children under the age of 18, and individuals with a known medical condition should consult a physician before using this or any dietary supplement.
These statements have not been evaluated by the FDA. This product is not intended to diagnose, treat, cure or prevent any disease.