PUREDOSE® L. Rhamnosus Probiotic
Micelle Liposomal Probiotic
Purality Health® Micelle Liposomal Probiotic contains the most well-researched and understood probiotic strain out there – L. rhamnosus. This bacterial strain has been shown to enhance the health of the gut, improving digestion, and subsequently supporting overall health, including cognition, the skin, weight maintenance, and more.
Through patented technology, our unique blend is easily absorbed to allow your gut to actually take in and utilize this beneficial bacteria.
What's more is that our probiotic formula tastes delicious – just like a slice of freshly-baked lemon cake!
So, what are probiotics?
Simply put, probiotics are live bacteria that are good for you, especially your digestive system. [1]
Bacteria often get a bad rap because it's bacteria that causes illness and makes you sick. But it's important to understand that there are both good and bad bacteria.
The bacteria in your body is known as the microbiome. While most bacteria lives within your gut, your entire body contains its own kind of bacteria that affects your health in major ways. [2]
Good bacteria and bad bacteria are constantly fighting within your microbiome for dominance, so it's important to ensure you're consuming things – like reliable probiotic supplements – that support the growth of beneficial bacteria.
Why just L. rhamnosus?
When looking at other probiotic supplements, you may notice that they contain a plethora of different bacterial strains. So, why does Purality Health® only include L. rhamnosus?
Excellent question.
While probiotics are good bacteria that benefit your health, they will still often compete with each other to be the dominant strain. When you take multiple of these strains at once, they may simply fight instead of working to benefit your health.
In fact, research shows that multi-strain probiotics are no more effective than single-strain probiotics, such as L. rhamnosus. [3]
When you take Purality Health® Micelle Liposomal Probiotic, you get a PUREDOSE® of L. rhamnosus that can get to work on supporting your health right away.
What's more, L. rhamnosus has been shown to not just eliminate bad bacteria in the gut, but support the growth of other probiotics. This allows for a more organic approach to increased probiotics in the gut that work symbiotically, providing you with optimal benefits. [5]
May prevent and treat diarrhea
Research has found L. rhamnosus to help prevent and even treat certain types of diarrhea. Studies have found that it may be able to protect against and treat diarrhea caused by antibiotics, traveler's diarrhea, acute watery diarrhea, and acute gastroenteritis-related diarrhea. [28, 29, 30, 31, 32, 33]
May increase insulin sensitivity
When your body builds up a resistance to insulin, blood sugar levels can rise, and your risk of heart issues and diabetes greatly increase. Thankfully, research has found that L. rhamnosus may be able to improve insulin sensitivity and blood sugar control. [55, 56]
Can reduce blood cholesterol
High cholesterol – especially LDL (bad) cholesterol – increases the risk of heart disease and other cardiovascular issues. However, one study found that L. rhamnosus lowered blood cholesterol levels just as well as a class of drugs meant to help treat high cholesterol. [57]
39 trillion bacteria exist in the human body, which one do you want to let win?
All of them play a MAJOR role in your overall health. Known as the microbiome, these tens of trillions of bacteria are capable of affecting your digestion, weight, immune system, cognition, and more. [14, 15, 16, 17, 18, 19, 20, 21. But within your body, there's a never ending battle between good bacteria (known as probiotics) and bad bacteria (which cause illness, inflammation, etc). Each side wants full control over your health, habits, cognition, immunity, and so on.
Probiotics – especially well-researched strains like L. rhamnosus – can not only eliminate bad bacteria in your microbiome, but stimulate the growth of other beneficial bacteria. [4, 5]
Benefits of our L. Rhamnosus formula
May prevent and treat diarrhea
May relieve IBS symptoms
Aids gut health
Can protect against cavities
Can help prevent UTIs
May promote weight loss
May increase insulin sensitivity
Can reduce blood cholesterol
May fight allergies
Can help treat acne
*These statements have not been evaluated by the FDA. This product is not intended to diagnose, treat, cure or prevent any disease.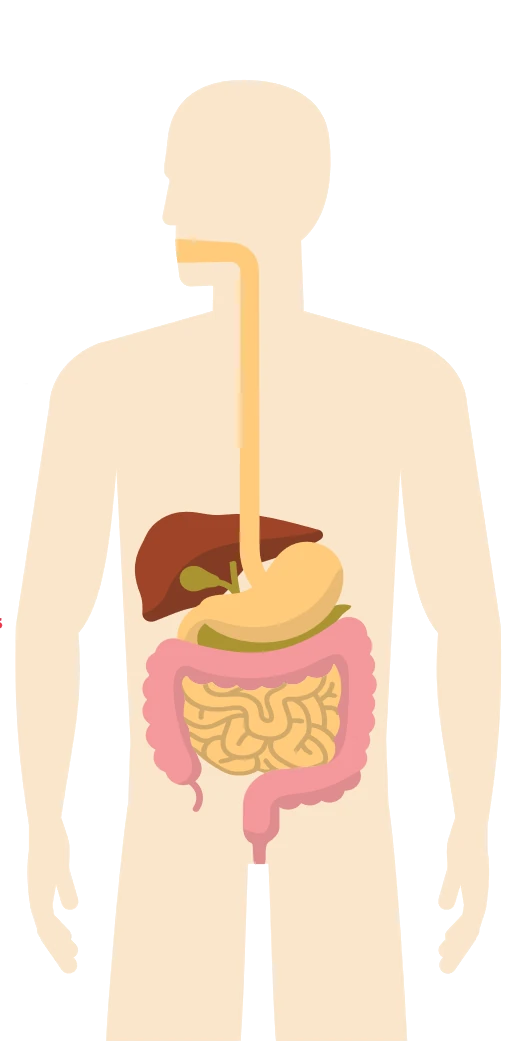 Buy L. Rhamnosus Probiotic from Thive Essentials
Dosing Instructions:
Each individual pouch contains ONE serving.
Dispense one pouch into your mouth, a glass, or a spoon.
Best taken on an empty stomach or 20 minutes before a meal.
CAUTION: Do not exceed the recommended dose. Pregnant or nursing mothers, children under the age of 18, and individuals with a known medical condition should consult a physician before using this or any dietary supplement.