Centenarians: The Habits Of Those Living To Be 100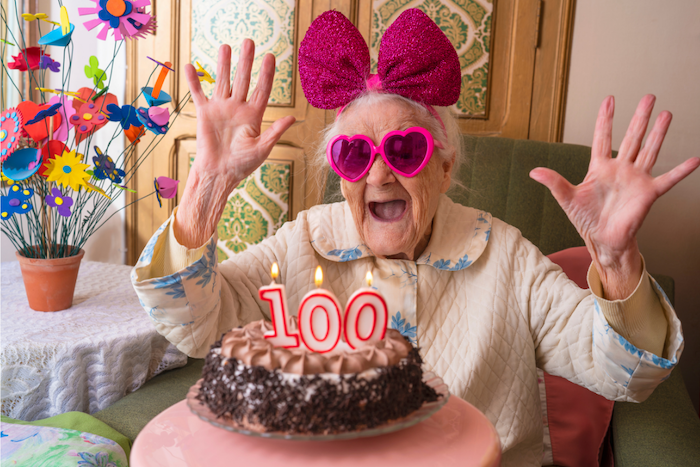 In recent years, the concept of "blue zones" has gained attention as a way to study why some people live to be 100 years old or more. Blue zones are areas of the world where centenarians are more common, and they have been identified in locations as diverse as Okinawa, Japan and Sardinia, Italy. While there is no one-size-fits-all blueprint for longevity, there are some commonalities among blue zones.
In today's blog, we'll take a look at the food choices — along with other habits — that centenarians share.
While nothing can guarantee hitting 100 years old, adopting certain habits can help. And, who better to learn from than those who are actually doing it?
First, we'll explore the foods that people who live to 100 tend to eat. We'll also discuss the benefits of these foods and how you can incorporate them into your own diet!
What are the benefits of eating like a centenarian?
Plant-based foods – by far the most common type of food consumed by centenarians – are packed with nutrients which can help to protect against heart disease and other chronic conditions. They are also low in calories and saturated fat, further supporting a healthy lifestyle.
Eating plenty of fruits, vegetables, and whole grains has been linked with a lower risk of cancer, cognitive decline, and other age-related diseases. And moderate consumption of dairy and protein helps provide the body with the nutrients it needs to stay strong and healthy as we age.
Let's take a look at some specific types of foods a centenarian may add to their plate.
What foods do centenarians eat?
One common thread that ties together the diets of many centenarians is a focus on plant-based foods. Centenarians from around the world tend to eat plenty of fruits, vegetables, whole grains, and beans. They also consume moderate amounts of dairy and protein, typically from fish or poultry. And some even enjoy a small amount of red wine each day (optional, of course!).
Now let's see some examples of these foods!
Blueberries
Blueberries are not only delicious, but they are also packed with nutrients that can provide a host of health benefits. 
For example, blueberries are a good source of fiber, which can help regulate digestion. They are also rich in antioxidants, which can help protect cells from damage and may even help reduce the risk of some chronic diseases. 
Additionally, blueberries contain vitamins and minerals that are essential for overall health, such as vitamin C, manganese, and potassium. So next time you're looking for a nutritious snack, reach for a handful of blueberries!
Leafy greens
There are many reasons why leafy greens are so good for your health. Not only do they contain important vitamins and minerals that boost overall wellness, they offer plenty of fiber and antioxidants to support a healthy digestive system. 
In addition, leafy greens are rich in compounds like carotenoids that help protect against oxidative stress and chronic diseases such as cancer. 
These nutrient-packed vegetables can be easily incorporated into your diet in a variety of ways, making them the perfect choice for anyone looking to improve their health. Whether you enjoy them raw in salads or cooked in soups, there's no doubt that leafy greens are one of the best things you can eat for your body and mind.
Avocados
Avocados are often praised for their healthy fats, but they offer much more than that. In fact, avocados are a nutritional powerhouse, providing a wide range of benefits for your health. Below are just a few of the reasons why you should make avocados a part of your regular diet.
For starters, avocados are an excellent source of fiber. In addition to promoting regularity, fiber has been shown to lower cholesterol levels and protect against heart disease. Avocados are also packed with vitamins and minerals, including potassium, folates, and vitamins E and C. These nutrients are essential for maintaining good health, and they offer a host of benefits, including boosting the immune system and protecting against disease.
As mentioned above, avocados are also a great source of healthy fats. Unlike other sources of fat, the fats found in avocados are monounsaturated fats, which have been shown to reduce cholesterol levels and improve heart health. In addition, these healthy fats can help to improve blood sugar control and promote weight loss.
If you're looking for a nutritious food that can offer a host of health benefits, look no further than the humble avocado!
Sweet potatoes
Sweet potatoes are not only delicious, they are also good for your health! 
They are a great source of vitamins A and C, as well as fiber. Sweet potatoes also contain antioxidants, which can help protect your cells from damage. 
Additionally, sweet potatoes have been shown to have anti-inflammatory properties. This means that they can help to reduce inflammation throughout your body, which can lead to a number of health benefits. For example, inflammation has been linked to conditions like heart disease and arthritis. Therefore, incorporating sweet potatoes into your diet may help to improve your overall health.
Eggs
Eggs are one of the most nutritious foods on the planet. 
They are an excellent source of protein and contain all nine essential amino acids. 
Eggs are also a good source of vitamins A, D, and E, as well as several minerals such as phosphorus and selenium. One egg contains only 75 calories and 7 grams of fat, making them a healthy choice for those watching their weight. 
In addition, eggs contain choline, which is important for brain health, along with lutein and zeaxanthin, which are linked to a reduced risk of age-related macular degeneration – an eye disease that can blur your central vision. 
All of these nutrients work together to make eggs an incredibly nutritious food that can be enjoyed as part of a healthy diet.
Walnuts
There are many reasons why walnuts are considered a superfood. 
For one, they are rich in healthy fats and omega-3 fatty acids, which help to support both heart and brain health. 
In addition, walnuts contain high levels of antioxidants, which can help to protect against disease and inflammation. Plus, they are packed with important vitamins and minerals like iron, copper, and zinc. Thus, incorporating walnuts into your diet can offer a wide range of benefits for your overall well being. 
Whether you enjoy them plain or chopped up as a tasty topping for yogurt or oatmeal, there's no doubt that walnuts are an easy and delicious way to promote good health from the inside out.
Fish
Fish are another one of the most nutritious and beneficial foods out there. 
They are packed with important nutrients like protein, omega-3 fatty acids, vitamin D, and others that are essential for maintaining a healthy body. 
Additionally, fish can help to improve digestive health by helping to keep things running smoothly and promoting regular bowel movements. 
Furthermore, fish have been shown to boost mood and reduce stress levels due to the presence of healthy fats like omega-3s. 
With all of these benefits, it's no wonder that eating fish is so strongly recommended as part of a balanced diet. Whether you choose to add more seafood to your meals or take a fish oil supplement on a regular basis, incorporating more fish into your life will help you feel healthier and happier!
Chickpeas
Chickpeas are a nutrient-rich food that comes with a variety of benefits for your health. 
They are an excellent source of protein, fiber, vitamins, and minerals, including iron, folate, and manganese. 
Chickpeas also have a low glycemic index, which means they do not cause a sudden spike in blood sugar levels. This makes them a good choice for people with diabetes or those trying to manage their weight. 
In addition, chickpeas contain phytochemicals that may help to protect against cancer and other chronic diseases. Add them to your salad or enjoy them in a hearty stew! 
Red wine
Few things are as enjoyable as a glass of red wine at the end of a long day. But as it turns out, red wine may not only be good for your mood – it may also be good for your health.
Moderate consumption of red wine can provide a number of health benefits, including reduced risk of heart disease, stroke, and some forms of cancer. The health benefits of red wine are believed to be due to the presence of antioxidants, which help to protect the body against cellular damage. 
Red wine is also a good source of resveratrol, a compound that has been linked to reduced inflammation and improved blood sugar control. 
So next time you pour yourself a glass of red wine, you can enjoy it knowing that it may be doing more than just relaxing you – it may also be giving your health a boost.
If you're interested in incorporating some of the foods that centenarians eat into your own diet, start by adding a few of the items listed above to your daily routine. You can also swap out refined grains for whole grains, and choose lean protein sources such as fish or poultry instead of red meat. And don't forget to enjoy a glass of red wine (in moderation!) with your meals.
What foods do centenarians avoid?
While there are plenty of foods centenarians tend to eat, they also stay away from certain things as well. Centenarians typically avoid foods that can be harmful to our health and can increase the risk of chronic conditions such as heart disease and cancer.
Let's take a look at some of the most common types of foods centenarians avoid:
Red meat
There are many reasons why eating red meat is bad for your health, with the primary culprit being the high levels of saturated fat and cholesterol found in this type of meat. These compounds can cause a number of negative health effects, including increased risk of heart disease and stroke. 
In addition, red meat can be produced from poor farming practices and may contain large amounts of hidden antibiotics or growth hormones that can wreak havoc on our bodies. 
Furthermore, diets high in red meat are associated with an increased risk for certain types of cancer, including colon cancer and pancreatic cancer. Altogether, it's clear that eating red meat is more than just a matter of taste – it also puts our overall health at risk.
Processed foods
Most people are aware that eating processed foods is not the best for their health, but many don't know why. 
Processed foods are defined as "any food that has been altered from its natural state." This includes simple things like bread and cheese, as well as more complex items like frozen dinners and packaged snacks. 
The problem with processed foods is that they are typically high in salt, sugar, and fat, while being low in essential nutrients. This can lead to weight gain, as well as other health problems such as high blood pressure and heart disease. 
Additionally, processed foods often contain harmful chemicals and preservatives that can damage your health. So next time you're at the grocery store, be sure to check the labels and make sure you're getting the most out of your food!
Sugary drinks
Sugary drinks are blamed for a variety of health problems, and for good reason. 
They are high in calories and can lead to weight gain, and they can also cause tooth decay. 
In addition, sugary drinks can contribute to type 2 diabetes and other chronic health conditions. But what many people don't realize is that sugary drinks are also bad for your heart health. Drinking just one soda or other sugary drink per day can greatly increase your risk of heart disease. And the more sugary drinks you consume, the greater the risk. 
If you're looking to improve your heart health, cutting out sugary drinks is a good place to start.
Other habits of centenarians
In addition to common foods they eat and avoid, centenarians also have some common habits that contribute to their longevity. Let's take a look at a few!
Eating smaller meals more frequently throughout the day
Most people are used to eating three large meals a day: breakfast, lunch, and dinner. However, there are several reasons why eating smaller meals more often may be better for your health.
First, it helps to regulate blood sugar levels. When you eat a large meal, your body has to work hard to process all the food, which can lead to a spike in blood sugar. Eating smaller meals more often helps to keep blood sugar levels steady.
In addition, it can help boost metabolism. The process of digesting food requires energy, and by eating more frequently, you can give your metabolism a slight boost.
Finally, eating small meals can help you control your weight. When you eat larger meals, you are more likely to overeat and end up consuming more calories than you need. By spreading your calories out over the course of the day, you can avoid this and maintain a healthier weight.
So next time you're feeling hungry, consider reaching for a nutritious snack instead of a full meal!
Sleeping well
Getting a good night's sleep is one of the most important things you can do for your health. 
Sleeping well can help improve your mood, sharpen your memory, and boost your immune system. Not to mention, it can also help you manage stress and reduce your risk for chronic diseases such as heart disease, diabetes and obesity. 
If you're looking to improve your health, make sure you're getting plenty of rest. Creating a relaxing bedtime routine can help you wind down at the end of the day and make it easier to fall asleep. 
Exercising regularly
Another habit that centenarians have in common is exercising regularly. 
Exercise has countless benefits for our health, including reducing the risk of chronic diseases such as heart disease, stroke, and type 2 diabetes. It can also help improve mental health, increase lifespan, and promote weight loss.
Make sure you're getting plenty of exercise to optimize your health!
Being social
There are many different reasons why being social can be beneficial for your health. 
For one thing, social interactions help to reduce stress and lower blood pressure, which can in turn decrease your risk of heart disease and stroke. 
Additionally, spending time with other people can increase levels of dopamine and serotonin in the brain, hormones that make us feel happy and content. 
Furthermore, spending time with others makes it easier to obtain support and advice when you need it, which can be crucial when dealing with difficult situations or making important life decisions. 
Ultimately, then, staying socially engaged is a key component of maintaining good health both mentally and physically. If you're looking to be more social, consider joining a local group or club of something that interests you.
Having a positive outlook
Maintaining a positive outlook is essential for your health and well-being. This is for a few reasons.
For one, having a more positive mindset has been shown to reduce stress levels and help you stay calm in difficult situations. 
Additionally, developing a more positive attitude can help boost your immune system, making it easier for your body to fight off illnesses and infections. 
Furthermore, people who maintain a positive outlook tend to be more energetic and motivated than those with a more negative attitude. 
Overall, it's clear that maintaining a more optimistic outlook has many benefits for your physical and mental health, making it an important aspect of overall well being.
The bottom line
Centenarians have many habits in common that we can all incorporate into our own lives. Eating nutritious foods, sleeping well, exercising regularly, and being social are just a few of the most important. 
If you're looking to live a long and healthy life, start by making these habits part of your daily routine.
We know some of these are easier said than done.
But even adopting a few of them – whether it's adding/removing certain foods from your diet or going for more walks – can help you live a healthier, longer life!
There's something else that can help…
Linked to almost EVERY disease out there, you want to make sure you're not letting this fall by the wayside.