Buy One Get One Free! Add one to basket & receive 2
Best Before 12/23, Great for 6+ Months stored in the Fridge
Purality Health® Mushroom Mindboost contains – in equal parts – five of the most beneficial mushroom species in existence when it comes to keeping a sharp and healthy brain.
All of these mushrooms contain high amounts of essential nutrients, along with unique bioactive compounds that can promote the health of your brain while also supporting your heart and immune system.
Through patented technology, our unique blend is easily absorbed into your bloodstream so that your body can make the most out of these compounds.
How do these mushrooms support the brain?
The five mushrooms included in our formula contain some of nature's finest compounds, and this includes the best of the best when it comes to supporting brain health…
When you take Mushroom Mindboost, you're getting a pure and potent, highly absorbable dose of L-ergothioneine – or "ERGO".
ERGO is an amino acid found almost exclusively in these types of mushrooms.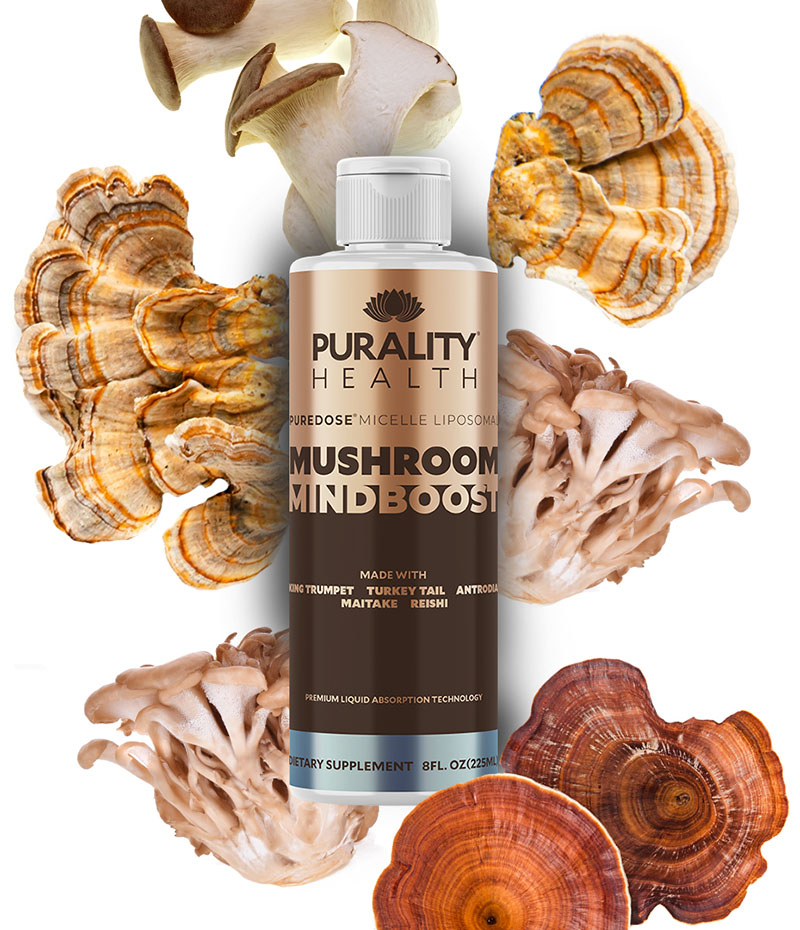 ERGO's ability to support cognition is astonishing!
For example, research has found that those with age-related cognitive problems are more likely to have low levels of ERGO within their body. [1]
This link is likely because ERGO acts as a unique antioxidant, anti-inflammatory, and therapeutic agent that specifically helps protect brain cells. [2]
In fact, ERGO has been shown to protect against β-Amyloid peptides – neurotoxins that attack the cells of the brain and are attributed to most cases of dementia and cognitive decline. [3]
It comes as no surprise then that – when compared to those struggling with age-related cognitive decline – older adults with healthy cognition were found to have higher levels of this crucial amino acid. [4]
And when it comes to these mushrooms…
The benefits they can offer your mind is just the tip of the iceberg.
What are these powerful mushrooms?
Our formula contains the five following mushrooms, all of them organic, non-GMO, and in a highly absorbable form:
Turkey Tail Mushroom – These disc-shaped, multi-colored mushrooms that grow naturally on both standing and fallen trees are of huge interest to researchers. This is because they contain a variety of powerful compounds that may boost your immune system and even help prevent and treat certain diseases. [5, 6, 7, 8, 9]
Antrodia camphorata – Unique to Taiwan, these stout mushrooms are loaded with compounds that can help support immunity, fight fatigue, and ward off the inflammation that can be brought on by allergies and other ailments. [10, 11, 12]
Reishi Mushroom – Also known as "lingzhi", these rich mushrooms have long been a staple in Eastern medicine. They've been used to help enhance the immune system, reduce stress, improve sleep, lessen fatigue, and support heart health. [13, 14, 15, 16]
King Trumpet – The largest member of the oyster mushroom family, these powerful mushrooms are a powerful antioxidant that can help promote healthy cholesterol, weight management, and heart health – all while staving off disease. [17, 18, 19, 20]
Maitake Mushroom – These Japanese mushrooms are packed with nutrients, antioxidants, and beneficial compounds like beta-glucans. They've been shown to support healthy cholesterol levels, promote blood sugar management, and reduce the risk of certain diseases. [21, 22, 23]
Key facts:
There are over 50,000 mushroom species in existence. Some are hallucinogenic or poisonous, while others (like those found in Mushroom Mindboost) are highly nutritious and even medicinal.
To support your health, we've included only the most beneficial types of mushrooms in Mushroom Mindboost.
Our formula contains 50 mg each of these medicinal mushrooms – all infused with our highly absorbable formula.
These mushrooms are difficult to find anywhere else, and we only use non-GMO, organic variations.
All five mushrooms contain rare, but highly beneficial compounds that can greatly benefit your health. These include polysaccharides, proteins, fats, minerals, glycosides, alkaloids, volatile oils, terpenoids, tocopherols, phenolics, flavonoids, carotenoids, folates, lectins, enzymes, organic acids, and more.
Our patented delivery technology protects these powerful molecules from breakdown in the digestive tract, delivering a pure and powerful dose right where you need it.
Purality Health® Mushroom Mindboost is one of the most easily absorbed forms of these mushrooms available today.
Research: