Meal Prepping – Best Tips And Practices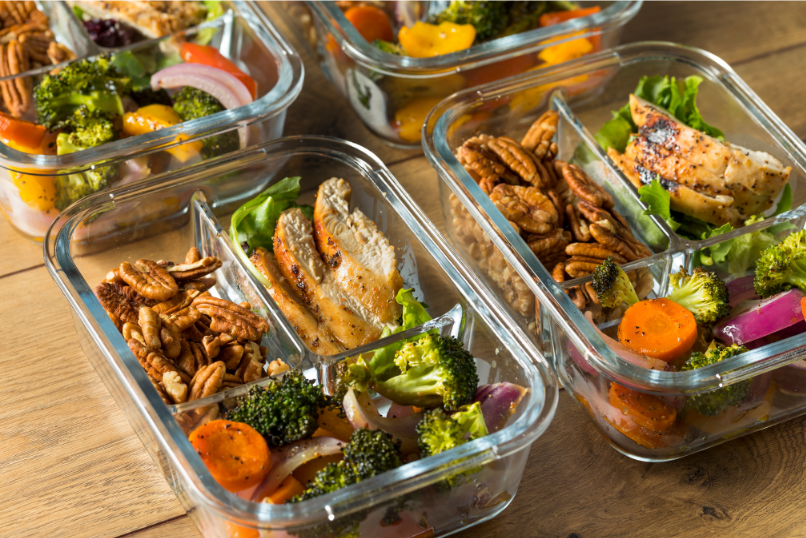 Meal prepping is the act of preparing some or all of your meals in advance. It can be a great time-saver throughout the week and super convenient when you need a quick and healthy meal.
But we know what you're thinking…
Meal prepping? You mean an entire Sunday in the kitchen?
We get it. You already have a lot to do on the weekends. You don't want to spend one of your days meant for rest and relaxation doing work. 
But it can certainly pay off throughout the week. Not only that, but we've put together this blog to help you get the most out of your food plan in the most efficient way possible!
Benefits Of Meal Prepping
Before we get to the ins and outs, let's look at some reasons why you may want to consider meal prepping to begin with.
Diet and nutrition – Having your meals planned out and already prepared can be a great help if you're on a diet or trying to make sure you're getting the right amount of nutrients.
It's healthier – If all of your meals and snacks are already accounted for, chances are that you're not going to be hitting the drive-thru. You'll be more likely to avoid take-out dinners and other similar unhealthy options. And because you're planning it ahead of time, you're more likely to choose healthier options for yourself.
You'll snack less – If you're looking to watch your calorie intake or if you'd just like to avoid the temptation to snack on unhealthy foods, meal prepping can help. You'll reliably have whole meals that will leave you feeling full for longer.
You'll save money – Because you can map out exactly what groceries you'll need for the week, you can budget much easier.
Convenience – It may seem like a chore at first, but throughout the week, you'll be thanking yourself every time you sit down to eat your previously prepared nutritious meal.
Different Ways To Meal Prep
The thing to understand about meal prepping is that there isn't one sole way to do it. The best way to be successful at it is to see what suits your needs and adopt those practices. 
Here are some of the most popular forms of meal prep: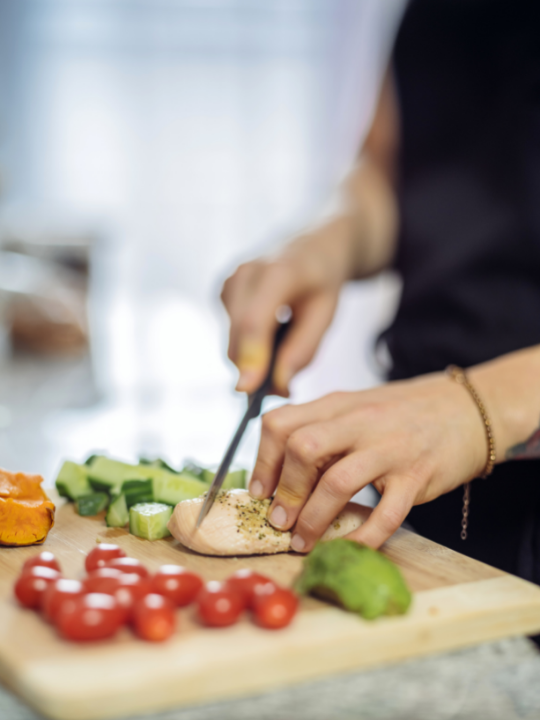 Make-ahead meals – These are full meals cooked in advance that you can freeze or refrigerate and then reheat when needed. This is a good option for dinners!
Batch cooking – This involves making large batches of a recipe – for example, a chili – that can be frozen for weeks to months and reheated when needed.  
Individually portioned meals – If you make sandwiches, wraps, or a salad that you can put in the fridge and eat over the next few days, that can be a great grab-and-go type meal that you can easily take on your way out the door.
Ready-to-cook ingredients – Meal prep doesn't always need to be an entire meal. You can pre-chop veggies or prep other ingredients you know you'll need throughout the week in order to cut down on kitchen time.
Which type of meal prepping you choose depends on your needs and situation. If you're looking for more time in the morning, maybe individually portioned meals that you can grab on your way out the door would be suitable. Or, if you find you don't have as much time in the evenings as you'd like, batch cooking, make-ahead meals, or ready-to-cook ingredients could be for you!
How To Choose?
You may be stuck wondering what types of meals to make and how much to make. 
Remember, you can take your time figuring out exactly what type of meal prep you would like to do. It may take some trial and error.
Take a look at your calendar and see which meals you'd like prepared ahead of time for which days. Estimate how much food you'll have to make for those days and times. If you're not sure, it may be best to have too much rather than too little.
Keep in mind any times you may be planning to go out to eat or order in. 
When deciding what type of meal to make at first, it's best to stick to a familiar recipe. That way, you don't get bogged down so soon with a new recipe. That being said, it's good to have some variety so that you're getting a healthy range of nutrients and not getting bored and deciding to hit the drive-thru anyway!
How To Cut Down On Your Cooking Time
Cooking can often be enjoyable. But sometimes, you're just tired from your busy schedule and want to hurry up in the kitchen without making sacrifices in the quality of your food choices.
Here are some tips to cut down on cooking time: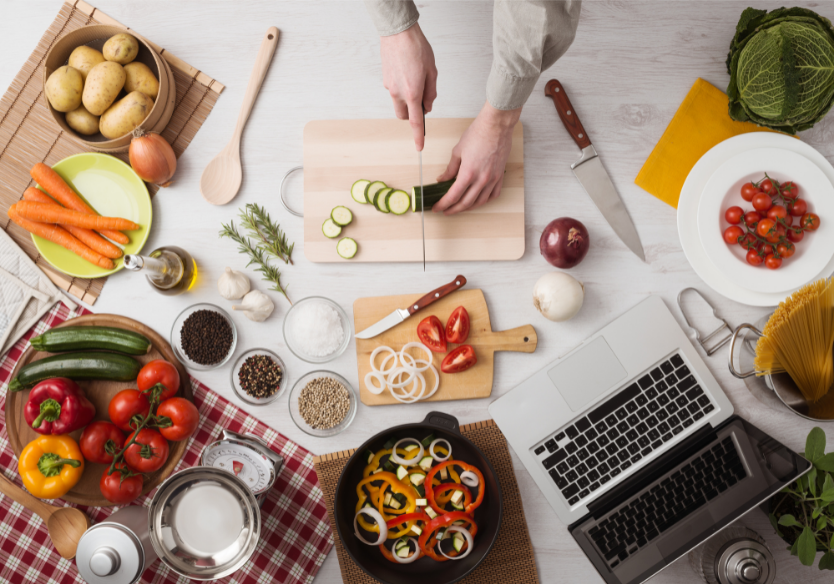 Stick to a schedule – It's best to choose a time that you'll grocery shop and do your meal prep. Otherwise, you may find yourself unorganized and the entire process may get left behind. Dedicate a certain time each week – Sunday mornings or Monday evenings – to get all of your meal prepping done. That way, you can be decisive with your schedule and time.
Be mindful of which recipes you choose – It may take some time to find your groove, but eventually, you'll find that your efficiency in the kitchen improves. Choose recipes that require different cooking methods. If too many need the oven, then you'll be waiting all day to get each of them cooked. 
A good rule of thumb is to choose one oven recipe and two stove recipes. That way, you can cook them in tandem. Then, while they cook, you can work on things that don't need to be warmed like sandwiches or salads.
Organize prep and cook times – Similarly, a planned-out workflow can save you a lot of time. Start with the recipe that needs the most cooking time, like a soup or oven-meal. Once those are underway, focus on cold foods like sandwiches. Also, review your recipes beforehand. If two of them need chopped onions, chop them all at once.
Make a grocery list – This one isn't for the kitchen, but it's still part of the whole process. A shopping list can save you a lot of time, since you can confidently move through the store to get what you need without stopping to try and remember what you need. 
Store Your Food Properly
How you store the food you prepare can make a big difference in how fresh it tastes and how well the nutrients are preserved. 
Here are some container recommendations:
Air-tight containers – Reusable silicone bags, stainless steel containers, and mason jars can keep your food crisp and fresh. 
BPA-free microwavable containers – These are convenient and better for your health, especially if you'll be microwaving your meals. Glassware or silicone containers are both good options too.
Freezer-safe containers – These can help reduce freezer burn and the loss of nutrients. If you're using a glass container, just be sure to leave enough room for the food to expand when it freezes (eg. 1 inch of air at the top of a mason jar).
Compartmentalized containers – You may prepare food that needs to be mixed right before consumption. Getting a container with waterproof compartments is perfect for these types of meals.
Steps To A Successful Meal Prep
Preparing some or all of your meals doesn't need to be as time-consuming and laborious as it may sound. Especially with practice, you can learn how to simplify the process to be as efficient as possible.
Using the info outlined in this post, here are some tips to get you started on a successful meal prep journey:
Select your meal prep method of choice based on your lifestyle and specific needs.

Choose one day to focus on your shopping and meal prep. 

Be sure to choose the correct number of meals that you'll need for the week/month. Remember to exclude times you may be eating out or at a friend/family member's home for a meal.

Select recipes that allow you to streamline things in the kitchen.

Focus on ways to speed up both grocery shopping and your time in the kitchen.

Store your meals properly. Don't leave things for too long and don't let anything perishable sit at room temperature for too long or it may begin to grow harmful bacteria. The "danger zone" for bacteria growth is anywhere between 40F – 140F. 
Enjoy!
Once you find the proper groove for your purposes, meal prep can be a huge game-changer. We hope that this blog helps you save some time throughout your busy week – whether that's because you pre-chopped veggies or prepared dinner ahead of time for every night. 
Boost Your Meals
When you're meal prepping, all of your meals are homemade. This is a great opportunity for you to boost your nutritional intake. This can have long-lasting effects on your overall health as you routinely take in healthy foods. 
One superfood you may find that many recipes call for is turmeric. This is due to its distinct taste, color, and nutritional profile.
But there's a major problem…
Absorbing turmeric is a huge challenge for the body. This means that you're likely not getting much – or any – of turmeric's amazing benefits. 
Here at Purality Health, we have a solution. Our Micelle Liposomal Turmeric is highly absorbable, organic, and very easy to add to all of your favorite recipes.